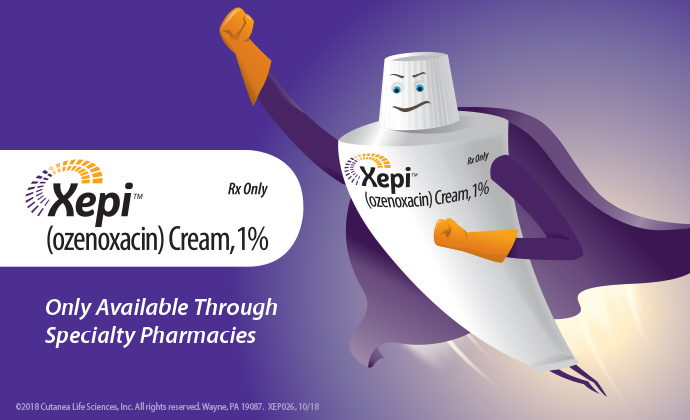 Miami Healthcare Advertising Agency Selected To Launch New Dermatology Drug
Cutanea Life Sciences Names The Weinbach Group Advertising Agency Of Record For Xepi™ (ozenoxacin) Cream, 1%
November 09, 2018
MIAMI, Florida, November 9, 2018 - The Weinbach Group, a leading
healthcare advertising agency
, announced it has signed Cutanea Life Sciences, Inc., a U.S.-based specialty pharmaceutical company that focuses on the dermatology sector. The Miami
healthcare marketing firm
will handle campaign creative, strategic planning, and media placement for Cutanea's newest drug,
Xepi™ (ozenoxacin) Cream, 1%
. The Weinbach Group had previously worked with Cutanea on other communications projects prior to its engagement as agency of record for Xepi™ and will continue to report to the company's marketing team for its work on this campaign.
Xepi™ is a novel, topical antibiotic approved by the FDA to treat the common
bacterial skin infection impetigo
, which is prevalent among children. The
Miami ad agency
's scope of work for
Cutanea
will include a wide range of projects from
patient education materials
, to creative sales support tools, to digital advertising. Its messages will be tailored to the needs of healthcare professionals that Cutanea plans to reach including pediatric dermatologists, pediatricians, and dermatologists.
"The Weinbach Group demonstrated itself as expert in the area of healthcare marketing when working on an earlier corporate project," said
Rob Partridge
, head of marketing and public relations at Cutanea Life Sciences. "Their work convinced us that putting the launch of Xepi™ in the hands of The Weinbach Group is a sound decision. Launching Xepi™ will require reaching a category of healthcare professionals on whom we have not previously focused. Given their proven track record in reaching diverse healthcare audiences I believe we've selected an agency that has the industry knowledge to hit the ground running."
The
medical advertising
to be created by The Weinbach Group on behalf of Cutanea will focus on the effectiveness of Xepi™ in treating impetigo, including the benefits it may provide with demonstrated activity against
resistant bacteria
. In market research conducted by The Weinbach Group, messages regarding these product features proved highly appealing to the providers on the front lines who treat impetigo every day.
"This is the first new drug approved specifically for treating impetigo in more than a decade, and impetigo is a disease that affects millions of kids," said Daniel Weinbach, president and CEO of The Weinbach Group. "Our agency can make a major, positive impact by promoting a product that has real-world utility for a leading skin infection diagnosed in children across America. We're honored that Cutanea has trusted us with such an important effort."
About The Weinbach Group
The Weinbach Group, now in its fourth decade of business, consistently ranks among South Florida's top advertising, public relations, and marketing firms. It serves clients in a range of industries, and has special expertise working with healthcare organizations. Notable clients have included The Renfrew Center for Eating Disorders, HCA, University of Miami School of Medicine, and Jackson Health System.
Tpo