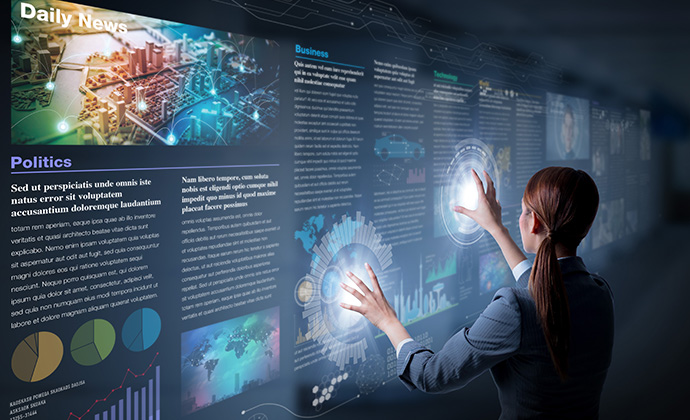 Leveraging The Future Of Public Relations
April 04, 2018
Over the past dozen-and-a-half years, the media landscape has changed dramatically, and it's continuing to change by the minute. Along with it,
public relations – as it once was – has changed dramatically
as well. At our
Miami public relations firm
we rarely spend our days as publicists or press agents. Instead, today's PR people are content creators, influence peddlers, and even advertisers.
Expansion of the digital universe has resulted in more media outlets than ever before. However, despite the growing number of media outlets,
there are fewer journalists to report news
. Simultaneously, the speed at which news comes out has increased to a breakneck pace. Indeed, news cycles have shrunk from days to minutes!
Along the way, we've seen new players in the sandbox. In addition to editors, publishers, and public relations pros, we've added
influencers
. And across the gamut, the content produced, published, broadcast and disseminated is more opinionated than ever.
So, as PR pros how do we make the most of media today and how do we find success in this new reality? We can start with what hasn't changed, and that's the demand for quality, well-conceived, well-executed content.
Fill The Void With Quality
High-value, marquee media outlets are harder than ever to penetrate because newsrooms are stretched impossibly thin. It's one of the reasons we see less reliance on hard news and greater emphasis on opinion reporting. (Just look at primetime cable news programming. Every network showcases pundits and analysts, and none report the news.)
For public relations professionals and those working at a
marketing communications firm
, this vacuum has created opportunity to supply the quality content news outlets need and want. They embrace substantive writing and reporting that makes their outlets look good. And within that content, you, the PR professional, have the opportunity to incorporate messaging that benefits your clients.
Maintain Editorial Standards
Even with expanded opportunities to provide content that advances our clients' goals, PR professionals have to remember that
content marketing
is not propaganda. Just because we sometimes see journalists standing on their soapboxes, doesn't mean we should. Eventually, they will get knocked off. Or, in more straightforward terms, your reputation will suffer if the content you provide is inauthentic and overly biased. Focus on developing professional content that informs, teaches, and persuades.
Embrace The Change
With fewer reporters to answer our calls and emails,
how
we pitch and
to whom
we pitch has changed. We're more likely to work with influencers whose legions of followers are more devoted than any newspaper's or magazine's readers.
We're also finding ourselves exchanging information in new, more efficient ways. At our
healthcare marketing
firm, we call them "content curators." These people look to public relations firms for crowd-sourced content. Then, they find a home for the best and most market-ready topics. Going forward, we will see technology-driven systems that disseminate concepts for stories more efficiently. Pitching journalists will fall by the wayside altogether as we participate in more information exchanges where publicists and journalists can seamlessly connect, and reporters can farm content for the media outlets they serve.
Publish On Your Own
Of course, the most obvious change in public relations professionals' daily activities is our added responsibility to create and publish content through user-generated platforms, i.e. social media, blogs, and our clients' websites.
These outlets are instantly accessible, always available, and just as valuable to shaping a client's identity as the news media. And you don't have to play nice with a grumpy editor to ensure your story gets published.
While some lament the evolution (or devolution) of journalism in the digital age, public relations professionals and even those who work in a niche environment like a
healthcare advertising agency
, have new opportunities to demonstrate our unique skills as communicators, advisors, and influencers. We have more tools at our fingertips, and we have to learn how to use them effectively. Once we put those tools to work, we'll find ourselves chock full of work and appreciated for the results we produce.
Tpo